NOAA's Coral Reef Conservation Program: Capacity Assessment Documents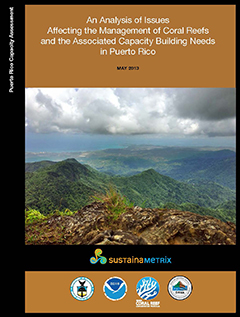 This project is a follow-up to the Coral Program's Management Priority Setting process finished in 2010. Using the management priorities identified by each jurisdiction as a framework, the capacity assessments are designed to identify capacity gaps in light of that jurisdiction's priority goals and objectives, and provide recommendations to fill those gaps. The project is not a program evaluation; rather the focus is on how to best move forward and build sustainable management structures.
The assessment is geared toward understanding capacity gaps in local agencies with the responsibility to manage coral reefs, but the recommendations are meant to engage the larger conservation communities in the jurisdictions, other federal partners in the Coral Reef Task Force, and NGOs.
American Samoa Capacity Assessment Report and Coral Reef Conservation Time Line
US Virgin Islands Capacity Assessment Report and Coral Reef Conservation Time Line
Puerto Rico Capacity Assessment Report and Coral Reef Conservation Time Line
Hawaii Capacity Assessment Report and Coral Reef Conservation Time Line
Guam Capacity Assessment Report and Coral Reef Conservation Time Line
CNMI Capacity Assessment Report and Coral Reef Conservation Time Line
Florida Capacity Assessment Report and Coral Reef Conservation Time Line