Determining Thermal Capacitance for Protected Area Network Design in Palau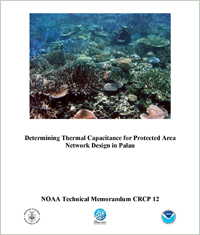 During the latter half of 1998, Palau experienced unprecedented bleaching that resulted in significant mortality and the loss of significant proportions of one of the few remaining pristine coral reefs in the world. Prior to 1998 and since 1998, little to no ecologically significant coral bleaching has been observed.
The Nature Conservancy (TNC) and the Palau Government joined forces to design and implement a protected areas network (PAN) for Palau's coral reef ecosystem. A PAN is best described as a series of marine protected areas (MPAs). They recognized bleaching as being potentially one of the major future threats to the Palau coral reef ecosystem. However, with only one poorly documented bleaching event on record, it is difficult to gain enough experience to be able to build resilience to these events into the PAN. In parallel with this effort to design a PAN for Palau, NOAA and the Australian Institute of Marine Science (AIMS) were collaborating on the use of hydrodynamic models to predict heat stress during a bleaching event. In 2003, it was decided to combine these efforts and for NOAA and AIMS to produce a heat stress model for Palau for use in the PAN planning as an attempt to identify factors that might confer resilience to climate change.
The work described in the main body of this Technical Report represents an important new tool for Marine Protected Area (MPA) design. Prior to this project, the design of MPAs was based on species diversity alone and some socioeconomic considerations. Prior to this work, there had not been a serious attempt to include physical variables to build resilience against climate change, and in particular coral bleaching, into MPA design. This project demonstrated that a simplistic physical model can be used to improve MPA planning to incorporate resilience against future coral bleaching events.

Appendix 1 presents a comprehensive overview of the data collected and allows a brief view of some of the time series collected. These time series are of sufficient length to undertake a tidal current analysis for hind-casting or prediction. Appendices 2 and 3 are publications that came out of the modelling effort in Palau.
Citation: Skirving, W.J., S.F. Heron, C.R. Steinberg, C. McLean, B.A.A. Parker, C.M. Eakin, M.L. Heron, A.E. Strong, and L.F. Arzayus. 2010. Determining Thermal Capacitance for Protected Area Network Design in Palau. Silver Spring, MD: NOAA Coral Reef Conservation Program. NOAA Technical Memorandum CRCP 12. 317 pp.
Determining Thermal Capacitance for Protected Area Network Design in Palau: (full report, pdf 16 MB)
Report Sections
For more information, contact: