NOAA Coral Reef Conservation Grant Program
International Grant Products
Each year, subject to the availability of funds, NOAA's Coral Reef Conservation Program (CRCP) publishes Federal Funding Opportunities (FFOs) in www.grants.gov to solicit proposals for coral reef conservation activities, as authorized by the Coral Reef Conservation Act of 2000 (CRCA). This page highlights some of the international awards products produced through the Coral Program's various financial assistance awards. For general information about the NOAA Coral Reef Conservation Grant Program please visit the CRCP website.
Atlantic Ocean/Caribbean Sea
Selected products generated through the NOAA Coral Reef Conservation Grant Program are highlighted below. For a complete list of products available on this site please search through the CoRIS Geoportal.
Belize
Columbia
Grenada/St. Vincent
Honduras
Saint Lucia
Wider Caribbean
---
Pacific Ocean
Selected products generated through the NOAA Coral Reef Conservation Grant Program are highlighted below. For a complete list of products available on this site please search through the CoRIS Geoportal
Federated States of Micronesia
Fiji
Marshall Islands
Palau
Papua New Guinea
Philippines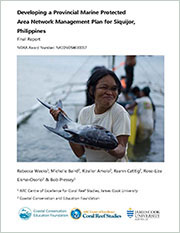 Thailand
Vietnam
Coral Triangle Region
Micronesia
---
Indian Ocean
Selected products generated through the NOAA Coral Reef Conservation Grant Program are highlighted below. For a complete list of products available on this site please search through the CoRIS Geoportal
Indonesia
Timor-Leste
South Asia
Socioeconomic Monitoring for Coastal Managers of South Asia: Field Trials and Baseline Surveys
Western Indian Ocean
Global
Selected products generated through the NOAA Coral Reef Conservation Grant Program are highlighted below. For a complete list of products available on this site please search through the CoRIS Geoportal