St. Thomas East End Reserves Watershed Planning Project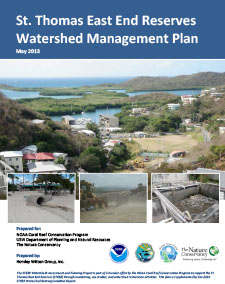 Reports
2013 STEER Watershed Management Plan
2013 STEER Watershed Existing Condition Report
Existing Studies
The following are links to some of the existing reports and monitoring data used to inform this study.
Management Plans
Water Quality
Enforcement Actions
Other Studies
STEER Watershed Mapping
The following shapefiles were created by Horsley Witten solely for the purposes of the STEER watershed planning effort. They are not intended to supersede official mapping data used by DPNR or other territorial agencies. Shapefiles are in standard 'NAD_1983_UTM_Zone_20N' projection used by DPNR, unless otherwise noted.