How to Cite Materials on the CoRIS Website
Documents
The CoRIS website provides access to many documents and publications. Please follow standard best practices for documenting a publication when using one of these resources. Many of the NOAA documents, including most Technical Memorandums and Technical Reports, include a recommended citation along with a doi for documents released after 2015. It is requested that you use these citations - include the doi when available.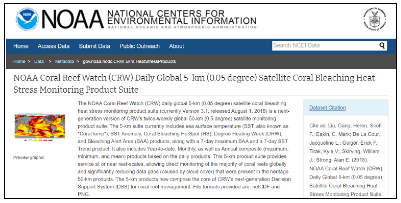 Datasets
Many of the datasets listed in our catalog include a recommended dataset citation in the ISO 19115-2 credit field. If a recommended dataset citation is included in the metadata we recommend following this citation when utilizing the data. If no citation is provided we recommend following the Federation of Earth Science Information Partners' (ESIP) Data Citation Guidelines for Earth Science Data, Version 2 when referencing the data.
Imagery
Most images on the CoRIS website are in the public domain and cannot be copyrighted. When using an image, please credit NOAA. If noted, also credit the photographer and their affiliated organization.
If an image is credited to a source outside of NOAA then we have received permission to use this image from a third party. NOAA may not have the authority to grant use of the image for a purpose outside of the scope for which we were originally granted access and use.
Other Materials
When referencing all other materials and when you would like to cite work done by the CoRIS Team, please use the following citation:
O'Connor, S, Mason, Z, Zhou, Y. and R. Wenker, (2020). NOAA Coral Reef Information System, National Centers for Environmental Information. Silver Spring, MD, 2p.