Field Identification Guide to the Threatened Corals of the U.S. Pacific Islands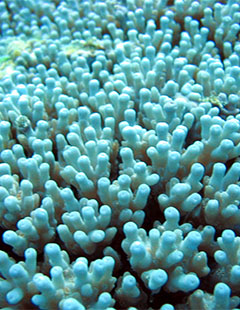 In September, 2014, the National Marine Fisheries Service (NMFS) listed 15 Indo-Pacific coral species as "threatened" under the U.S. Endangered Species Act. Many Indo-Pacific corals are quite difficult to identify to species, but identification is necessary for implementation of the listings. This guide is intended to help with identification of colonies of these species living on the coral reefs of U.S. Pacific areas, namely American Samoa, Guam, the Commonwealth of the Northern Marianas Islands, and the U.S Pacific Remote Island Areas (PRIA).
In all but a few cases, most coral species are defined based on their skeletal structure. Luckily, the tissues are thin on most species, so some skeletal features can be observed in the living corals. Living corals also have some clues that skeletons do not have, such as colors. Corals in the Indo-Pacific are difficult to identify because colony morphology of a species can be variable and morphological differences between colonies of different species can be small. Coral species vary in colony shape and the features of the "corallites", which are the cups the polyps sit in ("calices" are the insides of the cups) and other small features outside the corallites. Almost every coral species in the Indo-Pacific has one or two other species that are very similar and hard to distinguish from it, and some have many.
Because corals species can be hard to identify some reports can be incorrect by mistakenly identifying one species for another similar one. As such, while known species ranges and local reports are usually good indicators of the coral fauna in a specific area, they are not perfect, and finding unreported species is possible if not likely. In time, as scientists learn more and refine their ability to discriminate between similar taxa, knowledge regarding species distribution and their geographical ranges will continue to improve.
This document is a guide to the field identification of the Endangered Species Act-listed, threatened corals of the U.S. Pacific. Species are presented in an order that groups similar corals together as much as possible, and will present more common or widespread species at the start. In addition, other similar species are presented to highlight the differences between taxa.
Field Identification Guide to the Threatened Corals of the U.S. Pacific Islands: (full report, pdf 18 MB)
For more information, contact: