Deep Sea Research and Technology Program 2016 Report to Congress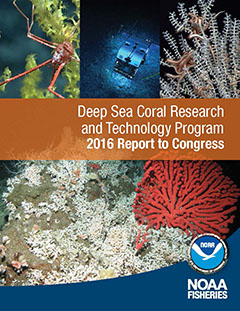 In every U.S. region, near and far from the shoreline, deep-sea corals grow slowly in the darkness and sustain an array of marine life. These complex habitats are areas of high biodiversity and activity for commercial fish and other marine species. In 2014 and 2015, six of the eight U.S. Regional Fishery Management Councils worked to improve the management of deep-sea coral habitats. To inform these Council actions, NOAA's Deep Sea Coral Research and Technology Program supports essential science and provides distinctive information to guide management of these unique ecosystems. With an investment averaging only $2.48 million per year and through its extensive partnerships, this Program is creating the foundation to understand deep-sea coral distribution, biology and ecology.
The Program completed fieldwork in two regions in this 2-year period. The Northeast Fieldwork Initiative visually surveyed 31 submarine canyons between Maine and Virginia and discovered coral gardens just 25 miles off the coast of Maine. Secondly, the Alaska Fieldwork Initiative systematically took images of the seafloor at more than 200 stations throughout the 1,200-mile Aleutian Islands chain, confirming widespread corals and commercially important fish using the coral areas. These initiatives tell us about many deep-sea coral communities that no humans had seen before. The involved scientists shared their findings and enabled the respective Councils to act on the newest data. The Program is a central partner for new research in the Pacific Islands region that began in 2015 and will continue until 2017. This research is also discovering deep-sea coral communities, and likely new species, in places never before surveyed. These observations support the region's national marine sanctuaries and extensive new marine national monuments, many of which are remote and rarely studied.
Citation: NOAA (2016). Deep Sea Coral Research and Technology Program 2016 Report to Congress. NOAA, Silver Spring, MD. 62pp.
For more information contact: