CRCP Roadmap for the Future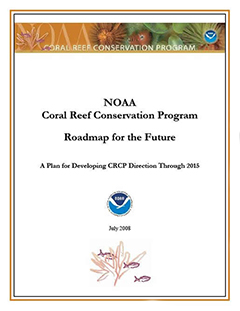 In 2007, the Coral Reef Conservation Program (CRCP) underwent an external review by a panel of recognized experts in coral reef resource science and management to provide an independent assessment of the CRCP's effectiveness in meeting its goals and to suggest recommendations for future improvement.
After the review, there was a need to translate the recommendations of the panel into tangible guidelines and activities to steer the CRCP towards the changes recommended. In response to the panel's report, the CRCP developed a Roadmap for the Future, laying out new principles and priorities for the future of the Program.
The Roadmap is intended to set the CRCP's future direction for FY 2010-2015 and define a process to align operations with newly articulated principles and priorities. The document lays out the following components:
the new CRCP principles and priorities
national-level responsibilities that the CRCP must address
the processes by which the CRCP will implement the changes suggested
The primary objective of the CRCP is to address strategic coral reef management needs in a targeted, cost-effective and efficient manner. To make the most of limited resources and to have the largest impact to reverse the general decline in coral reef health that has occurred over the past several decades, the CRCP will narrow the focus of its national program and shift allocation of CRCP resources to taking on-the-ground and in-the-water action.
The CRCP will focus efforts on understanding and addressing the following three key priority threats:
the impacts of fishing
the impacts of land-based sources of pollution
the impacts of climate change

Four working groups were established to provide recommendations on the strategic goals and objectives the Program should work towards in the next 5-20 years in order to effectively address each of these top three threats. The working groups final recommendations are presented in the NOAA Coral Reef Conservation Program Goals & Objectives 2010-2015 and NOAA Coral Reef Conservation Program International Strategy 2010-2015.
For more information contact: