Reef Manager's Guide to Fostering Community Stewardship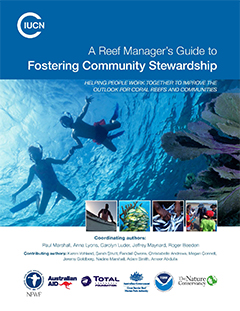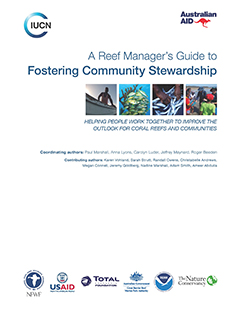 Many people involved in coral reef management know and use the Reef Manager's Guide to Coral Bleaching, the definitive manual for managers confronting one of the most dramatic impacts of climate change.
Building on the success of this publication, as part of an international consortium NOAA has just released the next installment in the Reef Manager's Guide family: A Reef Manager's Guide to Fostering Community Stewardship.
The Guide combines theory and practical guidance to help coral reef managers harness the immense power of community stewardship as a central element of coral reef conservation and sustainable use programs. Leading experts from around the world share their decades of experience in designing and implementing coral reef stewardship programs in Australia, Caribbean, Pacific and Indian Ocean regions.
Partners in the production of the Guide include US National Fish and Wildlife Foundation, Australian Department of Foreign Affairs and Trade, Great Barrier Reef Marine Park Authority, International Union for the Conservation of Nature, US National Oceanic and Atmospheric Administration, The Nature Conservancy, US Agency for International Development, University of Queensland, SymbioSeas and Reef Ecologic.
Citation: Marshall, P.A., Dowd, A.M., Luder, C., Maynard, J.A., Beeden, R. (2015). A Reef Manager's Guide to Fostering Community Stewardship. Gland, Switzerland: IUCN. doi: 10.2305/IUCN.CH.2016.01e.en