Review of Programs to Protect Southeast Florida's Coral Reefs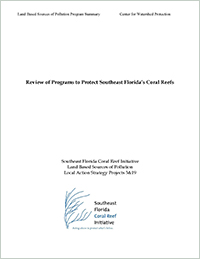 In response to the degradation of coral reefs around the country, the US Coral Reef Task Force and member states developed a "Local Action Strategy" to preserve their coral reef system. The Southeast Florida Coral Reef Initiative (SEFCRI) Local Action Strategy identified threats in Miami-Dade, Broward, Palm Beach and Martin Counties, and targets four key focus areas: Land Based Sources of Pollution (LBSP), Fishing Diving and Other Uses, Awareness and Appreciation, and Maritime Industry Coastal Construction Impacts. This report addresses the LBSP Local Action Strategy Project 21 – Evaluate the outcomes of LBSP Project 3 and 19 to identify gaps in best management practices. Specifically, it provides a preliminary overview of the programs already in place to reduce LBSP, and makes initial recommendations for improving both state and local programs that affect coral reef habitat. This report presents the first phase of this project, and as such it assesses the program database from LBSP Project 3/19 for gaps, determines priority areas of concern, and establishes a set of recommendations to reduce LBSP for southeast Florida.
Citation: Caraco, D., and S. Drescher. 2011. Review of Programs to Protect Southeast Florida's Coral Reefs. Center for Watershed Protection. Ellicott City, MD.
Review of Programs to Protect Southeast Florida's Coral Reefs (full report, pdf, 1.6 MB)
For more information, contact: