Coral Reef Habitat Assessment for U.S. Marine Protected Areas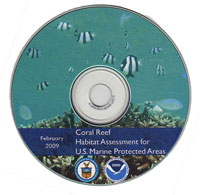 In the National Action Plan to Conserve Coral Reefs (2000) and the National Coral Reef Action Strategy (2002), the United States Coral Reef Task Force (USCRTF) established a key conservation objective of protecting at least 20% of U.S. coral reefs and associated habitat types in no-take marine reserves. NOAA's Coral Reef Conservation Program has been supporting efforts to assess current protection levels of coral reefs within Marine Protected Areas (MPAs) and to quantify the area of U.S. coral reef ecosystems protected in no-take reserves. A significant source of information for these assessments has been the National MPA Center's Inventory of Marine Managed Areas (MMAs) in U.S. ocean and coastal waters. As a part of this inventory, U.S. Federal, State, Territorial and Commonwealth programs have submitted both descriptive information on their MPAs as well as geospatial information in the form of GIS shapefiles and maps. All seven of the U.S. States and Territories on the USCRTF are participating in this inventory and have provided differing levels of information on their MPAs. However, acquiring complete information has become a challenge due to existing data gaps for some MPAs in these jurisdictions as well as a lack of resources and capacity to fill those gaps. The main objectives of this project were:
To obtain accurate digital boundaries for MPA sites in the five U.S. Coral Territories, the State of Hawaii, and the State of Florida from the Dry Tortugas to Biscayne Bay.


To use this information in conjunction with the digital benthic habitat data that NOAA has created for these locations to perform a quantitative analysis of the amount of coral reef habitat that is protected within the MPAs and more specifically within no-take marine reserves
This analysis demonstrates that the percentage of coral reef ecosystem resources in MPAs and no-take MPAs varies dramatically by location. Within the five U.S. Coral Territories, the U.S. Virgin Islands have the largest percentage of their coral reef resources in MPAs (64%). At 15%, American Samoa has protected the largest percentage of any Territory in no-take status. The designation of the Papahanaumokuakea National Marine Monument has had a dramatic effect on the protection status of coral reef ecosystems in the State of Hawaii. The entirety of the Northwestern Hawaiian Islands have been designated as a no-take MPA, but MPAs cover much less of the coral reef ecosystems in the Main Hawaiian Islands. As noted, the analysis cannot be conducted for the entire State of Florida because of data limitations. It should be noted that most of the benthic habitat mapping in Florida was done within MPAs from the Dry Tortugas to Biscayne Bay.
For more information contact: