Framework for the National System of Marine Protected Areas of the United States of America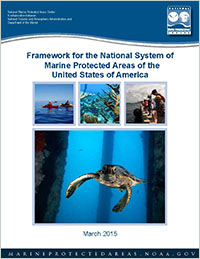 In the United States and around the world, marine protected areas (MPAs) are increasingly recognized as an important management tool for managing or buffering impacts threatening the health of our oceans, including coastal and offshore development, overfishing and a changing climate. When used effectively and as a part of a broader ecosystem-based approach to management, MPAs can help to restore and maintain healthy marine and Great Lakes environments by contributing to the overall protection of critical marine habitats and resources. In this way, effective MPAs also can offer social and economic opportunities for current and future generations, such as tourism, biotechnology, fishing, education, and scientific research.
MPAs are designated and managed at all levels of government by a variety of agencies including parks, fisheries, wildlife, natural resource and historic resource departments, among others. In the U.S., more than 1,700 MPAs have been established by more than 100 legal authorities, each with its own legal purpose. These MPAs have been established to achieve a wide range of conservation objectives, ranging from conservation of biodiversity hotspots, to preservation of sunken historic vessels, to protection of spawning aggregations important to commercial and recreational fisheries. Similarly, the level of protection provided by these MPAs ranges from fully protected or no-take marine reserves to sites allowing multiple uses, including fishing, recreational, and industrial uses.
Recognizing the significant role that U.S. MPAs play in conserving marine resources and the need for additional MPA coordination and capacity building, Presidential Executive Order 13158 of May 26, 2000 (Order) called for the development of a National System of Marine Protected Areas. The Order clearly called for a national system extending beyond federal sites, requiring collaboration with coastal states and territories, tribes, Regional Fishery Management Councils, and other entities. The Order further specified that the national system be scientifically based, comprehensive, and represent the nation's diverse marine ecosystems and natural and cultural resources.
To provide a blueprint for building the National System of MPAs, the Order called for the development of a framework for a National System of MPAs and directed the establishment of a National MPA Center (MPA Center) within the National Oceanic and Atmospheric Administration (NOAA) to lead the system's development and implementation. The Framework for the National System of MPAs of the United States of America (Framework) was originally developed between 2005 and 2008, with extensive input from federal and state MPA agencies, the public, and the MPA Federal Advisory Committee (MPA FAC). This updated Framework reflects the experience of the National System based on its implementation since November 2008, as well as additional recommendations from the MPA FAC.
The Framework outlines the following key components of the national system:
A definition of the term "MPA";
National system goals and conservation objectives;
Capacity building to strengthen the management effectiveness of U.S. MPA programs;
Processes for fostering regional MPA networks and collaboration;
Mechanisms for national and international collaboration;
Preliminary guidance regarding federal agency responsibilities to avoid harm to resources protected by the National System of MPAs;
Principles and processes for expanding MPA networks and establishing new MPAs; and
Approaches for monitoring, evaluating, and reporting on national system progress and priorities.
In addition, detailed Appendices provide:

MPA eligibility criteria and other key definitions;
A nomination process for existing MPAs to be included in the national system that provides opportunities for public input; and
Other supporting documents.
The Framework recognizes that U.S. MPA programs can achieve more efficient and effective conservation of the nation's important natural and cultural resources by working together, and that many solutions require collaboration across programs with their own individual mandates, levels of government, and even international boundaries. It envisions a national system made up of existing MPAs that work together to link and strengthen connections between the nation's federal, state, tribal and local MPA programs. This Framework describes the broad set of actions needed to implement this vision.
Based on the initial implementation of this Framework from 2009-2013, NOAA and the Department of the Interior recognize that constrained resources necessitate setting priorities. Looking ahead, the National Marine Protected Areas Center's highest priorities will be those that most directly and immediately address the goals of the Executive Order – connecting sites and programs into regional and national networks; building the capacity of MPA sites and programs; and strengthening the national coordination among federal MPA agencies and with ocean stakeholders. Through these collaborative efforts among U.S. MPA programs and stakeholders, the national system can achieve the Order's goal of enhancing the comprehensive conservation of the nation's natural and cultural marine heritage and the ecologically and economically sustainable use of the marine environment for present and future generations.
Citation: National Marine Protected Areas Center. March 2015. Framework for the National System of Marine Protected Areas of the United States of America. Silver Spring, MD. 56 p.
For more information contact:
Lauren.Wenzel@noaa.gov
301-713-7265