Adaptation Design Tool: Corals & Climate Adaptation Planning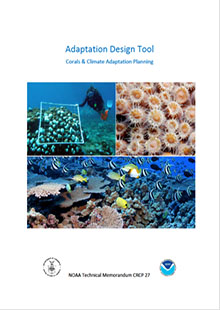 The Adaptation Design Tool of the Corals & Climate Adaptation Planning (CCAP) project was created to help coral reef managers incorporate climate-smart design into their programs and projects at any stage of planning and implementation. The Adaptation Design Tool can be used to incorporate climate change adaptation into management plans using existing planned actions as a starting point, and also to guide development of additional climate-smart strategies as needed. Most managers will be working from existing plans responsive to previously established management objectives, with climate change already taken into account to varying degrees. The Adaptation Design Tool includes worksheets, instructions, and examples as well as information on expanded considerations, resources and lessons learned to support managers in using the tool. Fillable versions of the worksheets are available for download below and the Adaptation Design Tool is now featured in an online course that can be accessed here.
Online Self-paced Course:
An online self-paced course on using the Adaptation Design Tool is available in pertnership with The Nature Conservancy.
Adaptation Design Tool: Worksheets
All worksheets (.doc 0.139 MB). This word document includes all of the worksheets needed to complete the tool in fillable format for your convenience. You will need to refer to the Adaptation Design Tool guide for instructions.
Acknowledgements: This work was funded in part by CRCP Project 30023 NOAA-EPA Corals & Climate Adaptation Planning (CCAP) Project Phase II Caribbean Stakeholder Workshop (PI: Britt Parker)
Citation: Parker, B.A., J.M. West, A.T. Hamilton, C.A. Courtney, P. MacGowan, K.H. Koltes, D.A. Gibbs, and P. Bradley. 2017. Adaptation Design Tool: Corals and Climate Adaptation Planning. Silver Spring, MD: NOAA Coral Reef Conservation Program. NOAA Technical Memorandum CRCP 27, 58 pp. DOI: 10.7289/V51N7Z5F
Adaptation Design Tool: Corals and Climate Adaptation Planning: (full report, pdf 0.953 MB)
For more information, contact: