Effect of Anthropogenic Pollutants on ESA Coral Health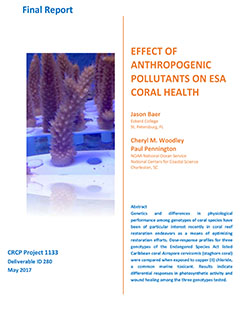 Coral reefs contain almost a quarter of the world's marine life in less than one percent of the ocean's area. In spite of this incredible diversity, these reefs are extremely fragile and sensitive to changes in their environment. Reef conditions worldwide are in danger of being altered by a variety of natural and anthropogenic factors. A deadly combination of environmental changes, disease outbreaks, overfishing, and pollution have led to the devastation of coral reef ecosystems around the globe.
One particularly deadly aspect of pollution is heavy metal contamination. Coming from industrial discharges, urban and agricultural runoff, sewage discharges, and anti-fouling paints, heavy metals can have an extremely detrimental effect on corals. Chief among the polluting heavy metals is copper. Coral reefs can be exposed to copper by various means, including ship groundings, the development of metal mining and smelting in coastal areas, and even the manufacturing of batteries, fertilizers, cosmetics, or pharmaceuticals in areas around the coast. An excess amount of copper can cause many serious issues in coral reef communities. Copper can cause damage to corals on a molecular level. It can inhibit growth, decrease coral calcification, increase larval mortality, and even cause a decrease in larval settlement success.
In spite of the serious dangers, the effects of anthropogenically-introduced heavy metals on coral reef ecosystems is one of the least studied factors related to marine environment change and a decrease in coral cover. Because of this gap in knowledge, the authors of this document designed an experiment to determine the effects of copper exposure on the threatened A. cervicornis coral (staghorn). In this study, three endpoints were measured in response to copper (II) chloride: tissue regeneration, photosynthetic activity through quantum yield, and visual observations using coral health scores. Three different genotypes of A. cervicornis were exposed to copper (II) chloride which resulted in differential responses in photosynthetic activity and wound healing.
Acknowledgements: The authors acknowledge the Coral Health and Disease Program team at the NOAA Hollings Marine Laboratory in Charleston, South Carolina, for their logistical help with this project. A special thanks to the Coral Restoration Foundation and Ken Nedimyer for providing A. cervicornis genotype specimens. Funding for Jason Baer was from the NOAA Hollings Student Scholarship
Citation: Baer, Jason, Cheryl M. Woodley, Paul Pennington. 2017. Effect of Anthropogenic Pollutants on ESA Coral Health. NOAA National Ocean Service National Centers for Coastal Science. Charleston, SC
Effect of Anthropogenic Pollutants on ESA Coral Health: (full report, pdf 1.03 MB)
For more information, contact: