Field Manual for Investigating Coral Disease Outbreaks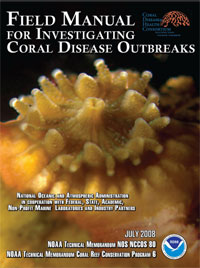 The Field Manual for Investigating Coral Disease Outbreaks is intended to serve as an operational guide to coordinate effective, informative responses by outbreak response teams to unusual incidents of coral disease or mortalities. It was developed as an aid to provide context and consistency for outbreak investigations and to help train coral disease outbreak response teams so that coordinated response operations can be executed. Chapter 1 provides a rationale for the need to study coral disease and respond to disease outbreaks. Chapter 2 identifies elements critical in the advanced planning process and includes issues such as regulatory and permitting authorities, criteria for mounting a response, and logistical considerations. Chapter 3 is dedicated to describing ICS structure, the functional roles and responsibilities of response team members, and its operation as it has been adapted to Coral Disease Outbreak Investigations. Chapter 4 focuses on the methodologies for collecting field data, samples and preservation techniques to preserve sample integrity suitable for laboratory analyses. Since coral disease field investigations by their very nature require underwater operations, Chapter 5 addresses safety precautions on the boat, by response divers and during field laboratory operations.
Citation: Woodley, C.M., Bruckner, A.W., McLenon, A.L., Higgins, J.L., Galloway, S.B. and Nicholson, J.H. 2008. Field Manual for Investigating Coral Disease Outbreaks. NOAA Technical Memorandum NOS NCCOS 80 and CRCP 6. National Oceanic and Atmospheric Administration, Silver Spring, MD 85pp.
Field Manual for Investigating Coral Disease Outbreaks (full report, compressed pdf, 1.8 MB)
Report Sections
Front Cover, About this Document (pdf, 590 KB)
Title Page, Preface, Acknowledgements, Table of Contents (pdf, 278 KB)
Chapter One (pdf, 245 KB)
Chapter Two (pdf, 485 KB)
Chapter Three (pdf, 2.5 MB)
Chapter Four (pdf, 8.0 MB)
Chapter Five (pdf, 202 KB)
Glossary (pdf, 156 KB)
References (pdf, 123 KB)
Appendix I (pdf, 90 KB)
Appendix II (pdf, 91 KB)
Appendix III (pdf, 122 KB)
Appendix IV (pdf, 95 KB)
Appendix V (pdf, 117 KB)
Appendix VI (pdf, 2.4 MB)
Appendix VII (pdf, 137 KB)
Appendix VIII (pdf, 843 KB)
Back Cover and Information page (pdf, 3.4MB)
For more information contact: