The effects of ultraviolet filters and sunscreen on corals and aquatic ecosystems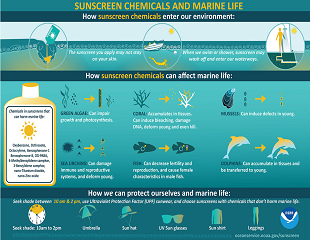 Many common chemicals used in sunscreen products to filter or block harmful ultraviolet (UV) radiation, or UV filters, have been found to negatively impact coral reefs and other aquatic ecosystems. Perhaps the most well-known of these chemicals are oxybenzone and octinoxate, however there are a number of additional compounds contained in these products which threaten corals and other marine life. These chemicals are often carried into the ocean by those wearing sunscreen who go swimming, and are also discharged by wastewater treatment facilities.
The NOAA Coral Reef Conservation Program is currently evaluating research related to coral reef health, especially that pertaining to UV filters in sunscreen. Consequently, the NOAA Central Library reviewed an existing bibliography on this topic, and conducted a literature search to supplement it with missing but pertinent material. This document is the end result of that process - a comprehensive, annotated bibliography compiling relevant studies into the following five sections:
Section I - Corals and UV Filters
Literature that directly studies the impacts of UV filters on corals. Covers topics such as coral bleaching and necrosis, photosynthetic efficiency, bioaccumulation, impact on symbiotic algae, endocrine disruption, and toxicity.
Section II - Endocrine Disruption/Toxicology of Coral Reef Associated Organisms
Literature that directly studies the endocrine disruption and toxicology effects of UV filters on reef associated organisms.
Section III - Environmental Fate and Life Cycle of UV Filters in Marine Environments
Literature on the environmental fate of UV filters in the marine environment, specifically the chemical life cycle of filters through degradation.
Section IV - Concentrations of UV Filters in Marine Environments
Literature on the measured environmental concentrations of UV filters in marine environments.
Section V - Laboratory Studies on the Toxicity and Endocrine Disruption Effects of UV Filters
Literature concerning laboratory studies investigating the toxicity and endocrine disruption effects of UV filters. Also includes studies done on non-aquatic organisms and cell lines, as well as humans and human cell lines.
Citation: Shinn, Hope. The effects of ultraviolet filters and sunscreen on corals and aquatic ecosystems, NOAA Central Library (2019), https://doi.org/10.25923/hhrp-xq11