The Octocoral Fishery in the Southeastern U.S. and Gulf of Mexico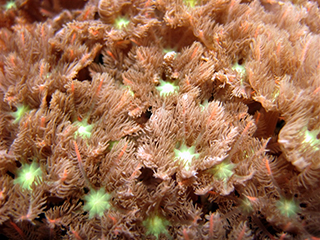 The octocorals, which include sea whips, sea rods, sea fans, and sea plumes, have long been targeted on a small-scale in the southeastern United States and northern Gulf of Mexico for the marine aquarium trade. This is particularly true along the Florida Keys. The third largest barrier reef system in the world, the Florida Reef Tract supports the largest number of octocoral species and population sizes in the continental U.S. In the southeastern U.S. and Gulf of Mexico, the South Atlantic and Gulf of Mexico Fishery Management Councils are responsible for management of octocoral collection, in conjunction with the State of Florida Fish and Wildlife Conservation Commission at the state level. Several years ago, due mostly to lack of information and synthesis, there was concern over considerable uncertainty in octocoral fishery landings, species composition, life history information, and population status to make informed management decisions.
In 2013, largely due to the concerns of the agencies responsible for octocoral collection management, the project "Synthesis of information on octocoral biology, ecology, and fisheries in the South Atlantic in support of effective management" was launched. This project constituted a multi-year collaborative effort with the Southeast Fisheries Science Center of the National Marine Fisheries Service, the University of Miami's Cooperative Institute of Marine and Atmospheric Studies, and the National Coral Reef Institute at Nova Southeastern University (Subaward NA10OAR4320143), with assistance by numerous octocoral collectors in southeastern Florida and the State of Florida's Fish and Wildlife Conservation Commission. The project involoved interviews with octocoral collectors, synthesis of marine aquarium trade landings data, fishery-independent surveys of octocoral distribution and population abundance estimates, and collation of available information on octocoral biology and ecology for over 40 species in the region, including those targeted by collectors.
The results of this study indicate that the long-term stability of the octocoral fishery is unlikely to change. Because the aquarium industry favors more brightly-colored, rarer species of corals, octocorals are not as highly desired by people in this field and are unlikely to be threatened by collection for aquarium use. Octocoral abundance for 15 species in the Florida Keys show that the octocoral population is estimated to be in the tens of millions to hundreds of millions of colonies per species surveyed, and that their abundance could even be increasing based on over a decade of research (from 1999 to 2009) in the region. The collection of octocorals below the State of Florida quota of 70,000 colonies per year is not likely to have a negative impact on octocoral populations. According to the results of this study, the octocoral fishery is sustainable, and coral colony collection levels could likely increase greatly without causing any sustainability issues.
Citation:
Chiappone, M., Espitia, P., Rutten, L.M., Jarrett, A., Miller, S.L. (2019). The Octocoral Fishery in the Southeastern U.S. and Gulf of Mexico. Marine Fisheries Review 80(3). doi:10.7755/MFR.80.3.2
The Octocoral Fishery in the Southeastern U.S. and Gulf of Mexico: (full report, pdf 13.8 MB)