Implementation of the National Coral Reef Action Strategy: Report on NOAA Coral Reef Conservation Program Activities from 2007 to 2009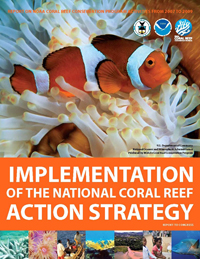 In April 2010, the CRCP released a Report to Congress highlighting Program activities from 2007 to 2009. This document is the third of the biennial progress reports on implementation of the National Coral Reef Action Strategy that are required by the CRCA.
The report highlights NOAA CRCP accomplishments from 2007 to 2009; the Program's annual budget for each year was $25.9 million in 2007, $27 million in 2008 and $29.4 million in 2009. During the period covered by this report, the CRCP operated pursuant to thirteen program goals organized under two themes: Understanding Coral Reef Ecosystems and Reducing the Adverse Impacts of Human Activities, and the report presents activities undertaken for each of these goals, including mapping, assessment, monitoring, partnerships, socioeconomic research and restoration, among other, as well as summaries of reports produced during the time period covered. This document also covers the reorganization process of the program from 13 goals to three goals and associated objectives.
Implementation of the National Coral Reef Action Strategy: Report on NOAA Coral Reef Conservation Program Activities from 2007 to 2009 (pdf, 2.92 MB)